Multi-Media Museum
2016.12.29 - 2017.04.09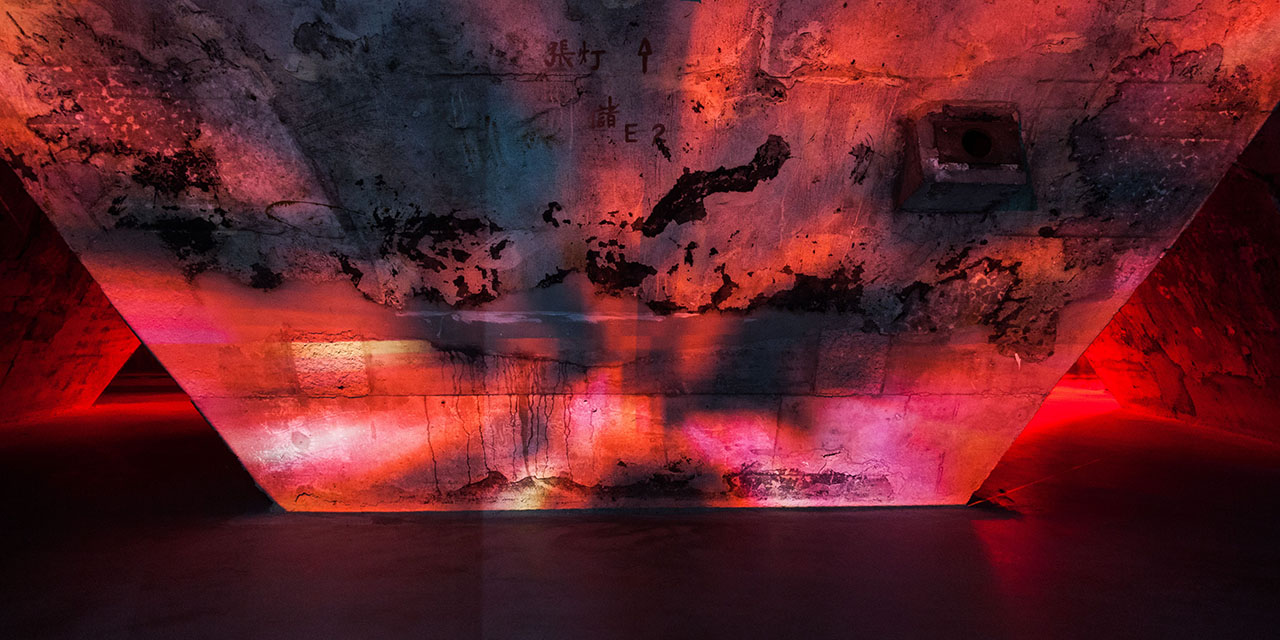 RE: SCAPE
-scape.
Laobaidu on the east bank of Huangpu River has witnessed ships coming and going for a century. A coal bunker from the last century has undergone tremendous changes of Shanghai. Time accumulates every moment of history, which forms the landscape we see today. And the landscape before our eyes will also become a moment of history. These moments are either depicted on ancestors' canvas, or fixed in the camera of modern people. Perhaps we can call this form of recording "landscape".
Art historian Nagahiro Kinoshita used a metaphor to analyze two representative figures in the Renaissance era, "If we say Da Vinci is describing "universe = Cosmoscape", then Michelangelo "chaos = Chaoscape" (Note 1). Neither of them is known for "landscapes". Here, "landscapes" are not fleeting "scenes", but "landscapes" that display time and space. "Scenes" and "landscapes" are two perspectives that artists use to depict the world and represent two different attitudes: realism and imagination. "Landscapes" evolve with time and change with the form of expression. Up till today, realistic depiction of beauty and free imagination still motivate thinking and exploring in the art circle.
With the change of the times, the old coal bunker has been rebuilt into a contemporary art museum that retains the original building and landscape. The eight coal hoppers have constituted this special new media art lab on the second floor. The marks left on the surface of the cold reinforced concrete are seemingly shaped stalactite, or terrain looked from above, or the distant universe, or sometimes the micro space under the microscope. These deja-vu moments present different "landscapes=scape" from different perspectives. So, we left a space here so that it could be depicted from more perspectives.
During the next year, the Asian new media art team- "Panoramic Eyes", looking around Huangpu River and Shanghai from this special space, would cooperate with other forms of artistic expression and fields such as technology and education to attempt to reconstruct landscapes of time and space from multiple perspectives.
Nagahiro Kinoshita's "Michelangelo", published in 2013 by Chuokoron Shinsha.
#1 Work
Accumulating
Curator: Panoramic Eyes
Artists: Panoramic Eyes+OGASAWARA Hiroo+WAKIHARA Daisuke
The eight coal hoppers depict decades of change of the energy and technology era. This strangely-structured space that is now the new media art lab is seemingly a giant power plant bearing this rebirth of the building. The first attempt starts from collecting complete samples from the surface of reinforced concrete, which are digitally recorded. The purpose is to explore tiny traces depicted by time and reproduce the invisible energy stored in it.
The work reshapes the space through Panoramic Eyes' imaging and lighting, integrated with WAKIHARA Daisuke 's and OGASAWARA Hiroo 's interactive programs and sound art. The breathing of lighting, imaging and sound makes the audience gaze at the intersection of time and space and experience the alternation of every historic and contemporary moment.
Form of expression: Interactive imaging device
Material: CNC LED lighting, ProjectionMapping image projection system, LCD screen, audio and digital interactive system